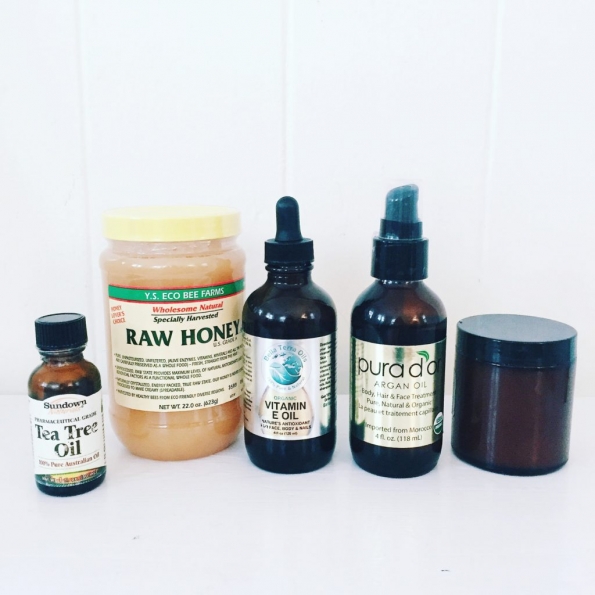 Ok so, it feels a bit strange to write about skincare since I'm no beauty or fashion blogger and usually stick to photography or heart things. However, I have been trying to simplify my life and create a healthier lifestyle on all fronts lately. One of those areas is skincare. Let me start by saying that I have NEVER had clear skin. Things got really bad for me when I was pregnant with Eleanora – all those hormones wreaked havoc on my face for the first few months and I wasn't comfortable using any harsh topical products. So…I started researching and found oil cleansing. I didn't stick with it for long though because I wasn't using the right oils, but came back to it last year.
Now, my entire skin care regimen and almost all of my makeup is entirely natural! Plus, my skin has never felt healthier. I have naturally oily skin, but using oils has made less of a sweaty-face look and more of subtle glow. Do I still break out? Yes, but it is much less often and goes away much more quickly. (I'm 27 and still hoping it will stop!) The best part? I've basically stopped wearing much makeup because my skin has more "glow" than ever. Going natural has helped me own my own skin in a good way. I have spots, blemishes, fine lines and a bunch of other things I could nit-pick, but knowing that I'm putting good IN and OUT makes me much more ok with the things I can't change.
So how does it all work? Let's start at the beginning!
Coconut Oil (pictured in the small amber jar) – I use this as a face wash substitute. I put it all over my face, soak a washcloth in hot water and set on my face to steam for 30 seconds. Then rinse. Not all of the oil comes off, but the gunk gets out – which is the point! Then I follow up with a Rosewater/witch hazel toner…sorry not pictured! I forgot. I use coconut oil for everything from cooking to moisturizer! It's especially lovely with some lavender essential oil mixed in too! Just make sure it's pure and organic.

Argan Oil  & Vitamin E Oil – I have to stay I am obsessed with Argan oil. I use this as my moisturizer after washing my face 2x per day. I'll alternate with Vitamin E oil as well, but it's quite a bit thicker and doesn't soak in as quickly. Argan Oil is non-greasy and feels so smooth going on. Vitamin E oil helps combat aging and wrinkles too. Both make my skin feel so firm and moisturized when I wake up. It does take a while to soak in before makeup, so I only use a little in the morning. These two are also great for hair! My ends have never loved me more! If you know me at all, you know I hate washing my hair – so these 2 are amazing for letting my ends get the moisture they need in-between washes. I also put loads of oil (whatever I'm feeling) on my ends before washing to make sure they stay nice and luscious! Argan oil is wonderful for hair growth as well – although my hair grows quickly so I don't use it for that purpose.

Tea Tree Oil – I use this as a topical solution for breakouts. It works, but it's just part of what I do to combat those pesky blemishes that seem to never go away for me. I usually use it at night on bad spots after my oil moisturizer.

Organic Raw Honey – THIS STUFF IS AMAZING! I usually do a honey mask 2x per week, more if I remember. It's just kind of inconvenient to have a sticky face for 10-30 minutes. It's super easy – just spread a teaspoon on a clean face and let it work it's magic. Honey is antibacterial, so it's amazing for acne treatment and prevention. It's full of antioxidants and is AMAZING for completion. My skin feel like a million little angels singing the hallelujah chorus post-honey mask. If I have lots of redness and breakouts, they are SMALLER and less agitated afterwards. Want a bad spot GONE by morning? Leave the honey on overnight under a bandage. (This always entails honey on my pillow, so I have only done it once – but it worked!) Just google some before and after shots if you don't believe me on this account. Who would have thought right?
Last but not least, make up! I haven't done enough research to make sure everything is natural – but the most important part, my foundation is entirely paraben and sulfate free! (Why does that matter? Parabens and sulfates are used as preservatives and have been linked to cancer, and are overall not the healthiest choice.) I love using Dr. Jart BB creams and have several. The best part is that you can order on amazon, which is my jam!  (Actually you can oder all of this on amazon! Yay!) Besides filling in my bows, a bit of blush and a hint of mascara, I don't do much anymore. I never did the "no-makeup" look before because my skin was bleh, but now it's much healthier and looks 10x better on it's own!
Going natural for my skincare also keeps me motivated to make healthier choices in other areas. Getting away from "fast fashion" is another area of growth for me. (Basically, fast fashion propitiates a feeling of "need" from consumers and is overall, a very dirty industry.) I'm no where near close to getting away from the fast fashion brands, and it hurts so bad that Zara is one of the leading fast fashion brands! Regardless, I am trying to buy with intention, choose things that fit my lifestyle criteria and will last. We hear a lot more about food choices (which is also very important) but everything we consume can be clean, healthy and natural as possible. At least, that is my goal for our family! 
(Image to show you my "no-makeup" look, no filter, no edits face! There are a few blemishes that my BB cream covers that are hard to see. Just BB cream, a hint of blush and brow fill in! That's it! Seriously – using oils has brought my skin back to life from dull-land.)