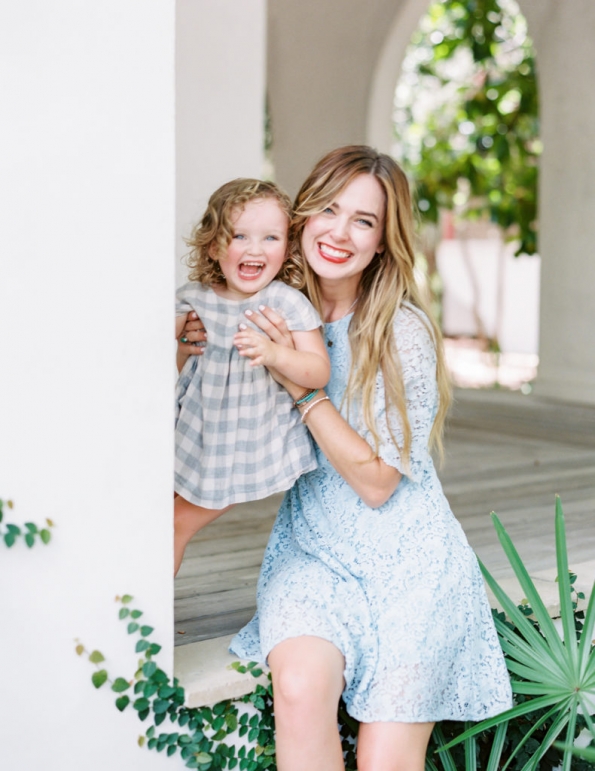 "I got you Mama!" Elle often says when I pick her up.
She says it all the time, and as usual she said "I got you" every time I picked her up last night. It was somewhat cool, so I decided it would be nice to get out with Elle and try to clear my head. I've been listening to all the podcasts from Christy Nockles when I have spare moments, and while we walked the episode featuring Ellie Holcomb played as we enjoyed some fresh air. We looked for birdies as Ellie Holcomb's melodic yet scratchy voice weaved a narrative as we stretched our legs. I listened with a hungry heart as she told a story of a pivotal moment in her life with Jesus.
She was a new mom, her daughter just three months old, as they set off on another tour. God was calling her to write. Her response: "It's not a good time God." Overwhelmed and in a total mess, she told God that she was not ok and this was stupid. I resonated with the season she described in my bones. What she said next was exactly what I needed to hear. "Yes, I've called you to be Emmylou's mama, but she is mine. And I'm going to take really good care of her." He told her as she cried. "And yes, I've given you these calls but FIRST you are my daughter. And you are mine. And I'm going to take really good care of you."
It was a blast of wind in my tired sails. Affirmation, like sudden rainstorm falling on ground plagued by drought. Love, like a door bursting open, illuminating a dim room.
We made the final steps up to our back gate and I pulled Elle up from the stroller. My heart still racing, but not from physical exertion.
"I got you Mama!" she said as she hugged my tight on the way up to the door.
In reality, I have got her – not the other way around. I'm the one holding her up, arms full with Beary, paci, usually groceries or a guitar and both our bags of necessities. I've got it all and she's not going anywhere. And yet, she hugs me tight and says "I got you" with no fear of falling. I hold her so often, she doesn't really know any different. I always "got her." This time was no different, until I reached the last step…
And just like that, another wave of grace hit my soul's shore: "I got you daughter. You're mine. I'm going to take really good care of you." 
His voice was so gentle and clear. And just like that my sweet girl's funny little phrase took on a whole new meaning. He has me. I'm not going anywhere. In that moment I just needed the reminder of His overwhelming love, and the fact that I'm His…and not only His, but His precious daughter. His love holds me up. It's so constant that I often forget He's even holding me. In my naivety I think I'm the one holding onto Him. I'm clinging on like my life depends on it. But there is no need for anxiety. I got you. I'm not going to fall. He has me. He carries me. He holds me up in His love. It's a truth scattered all over scripture.
"So do not fear, for I am with you; do not be dismayed, for I am your God.  I will strengthen you and help you; I will uphold you with my righteous right hand." (Isaiah 41:10)
"Listen to Me, O house of Jacob, And all the remnant of the house of Israel, You who have been borne by Me from before your birth,  carried from the womb; Even to your old age I will be the same, and even to your graying years I will carry you. I have done it, and I will carry you; And I will bear you and I will deliver you." (Isaiah 46:3-4)
"And in the wilderness where you saw how the LORD your God carried you, just as a man carries his son, in all the way which you have walked until you came to this place.'" (Deuteronomy 1:31)
"In all their affliction He was afflicted, And the angel of His presence saved them; In His love and in His mercy He redeemed them, And He lifted them and carried them all the days of old." (Isaiah 63:9)
"Like a shepherd He will tend His flock, In His arm He will gather the lambs And carry them in His bosom; He will gently lead those that are with young." (Isaiah 40:11)
"Save Your people and bless Your inheritance; Be their shepherd, and carry them forever." (Psalm 28:9)
"He who dwells in the shelter of the Most High will rest in the shadow of the Almighty.  I will say of the Lord, "He is my refuge and my fortress, my God, in whom I trust."…He will cover you with his feathers, and under his wings you will find refuge; his faithfulness will be your shield and rampart.  You will not fear the terror of night, nor the arrow that flies by day, nor the pestilence that stalks in the darkness, nor the plague that destroys at midday.  A thousand may fall at your side, ten thousand at your right hand, but it will not come near you…For he will command his angels concerning you, to guard you in all your ways…"Because he loves me," says the Lord, "I will rescue him; I will protect him, for he acknowledges my name.  He will call upon me, and I will answer him; I will be with him in trouble, I will deliver him and honor him…" (Psalm 91:1-16)
He's saying: I got you. Trust me. You're mine. And I'm going to take really good care of you – no matter what happens I am with you.
So, You've got me Lord. And I got you. You carry me. You carry Elle. We are both in your arms, under Your care and my soul can rest against Your strong, loving heart – no matter what happens.
I got you.