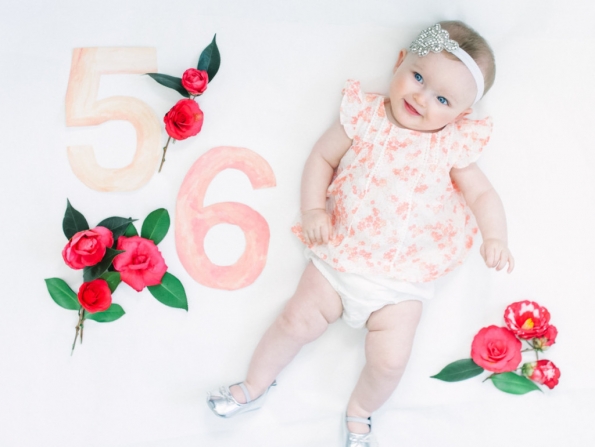 This girl has cute in spades. Those chunky thighs! I die! So far, 6 months is my favorite, even though it's been the hardest stage since we came out of newborn land. She is so fun, but the whole teething thing makes her extra cranky quite a bit. It's hit or miss on what day is going to be great, and what one will not-so-fun. She went 2 whole days with no naps, along with not sleeping well at night a few weeks ago. Uh. No bueno for me or baby girl. Still, over all she's such a bright, sweet thing. I love watching her learn and grow.  She's turned into such a big little person. We love to play with her and make her laugh. She is perfectly happy to shadow me all day. Need to vacuum? She'll happy ride along on my hip. Dishes? Water noises are fun! Emails? She'll play with my face or hair in my lap. I will probably start trying to have her play more independently, but she is much more happy to be my little shadow. Her eyes have also become even more brilliantly blue these past 2 months. Her lips really are that red too. (Thanks for those genes daddy!) I know everyone thinks their baby is beautiful, but I'm pretty sure I'm not too biased about Eleanora. I'll have to try really hard not to tell her so much when she's older and focus more on other virtues. But yeah, she's gorgeous.
PS: Yeah, so I never got around to doing a 5 month update…so they are combined. The perfectionist in me hates it, but eh, January is typically very uninspiring to me anyway. I was late getting to it and then I had no ideas for the picture. Oh well! Thus, we have the 5 included too.
Weight: We have our 6 month appointment next week, but she was 15.03 lbs and 25 inches at her 4 month appointment. I'm guessing she's at least 18 lbs now! She's definitely longer too. She seems to have less belly these days, but she's still sold! Let's just say I can barely fit her in our bathroom sink any more. I try anyway because it's just so much easier than the tub.
Clothing: The funny thing about having a Summer baby is that you get NOTHING for Winter. We have lots of cute Spring things in her size, but its too cold right now. We like to play mix-n-match with all her sizes. Her 0-3 dresses are now tops, and I've taken in a few 6-9 month outfits for now. I cannot wait for warmer weather so we can show of her thigh rolls. Haha! I mean, just look at the photo above as an example. Yum. She did finally outgrow some of her 0-3 shoes. She has such tiny feet!
Sleep: Elle was sleeping WONDERFULLY during her 5th month, but now teething is in full force. The result has been a boycott against naps and sleeping at night sometimes. She was taking some glorious 3-4 afternoon naps before teething hit harder. Still, she's been such a great little sleeper so I don't have much room to complain. If nothing else works, a little Classical piano music and cuddles will at least help. I have a play list set to go. She finds it soothing.
Eating: We started baby food after 4 months and boy, she loves all food! Her favorites right now are rice cereal with banana, apples, avocado, sweet potato and squash. The only thing she hasn't likes is green beans. I don't blame her there though. Ew. It looked gross to me too, so we can let that one go for a while. She eats baby food in the morning, before naptime and sometime around dinner. It has definitely given my body a break, which I appreciate.
Personality/ Mood: Elle seems to have a sweet, expressive, easy-going and somewhat introverted personality thus far. She loves being around other kids. Every time I play a video that my friends post of their babies, she just laughs and smiles. I think she'll be such a good big sister one day (hopefully)! She's usually good while we are out, but she has a time limit. Once it's 6:30 or 7, she is ready to be home. She may fuss and fuss at a restaurant, but as soon as we get home she's all smiles. It's like she wants her people all to herself. It takes her a while to warm up to people sometimes. I think that's just because she is with me most of the time and when she is with other people it usually means that I'm leaving for a while. She loves being around people, but likes to be social in my arms or as long as I'm very close. She laughs easily and is interested in anything new, bright and colorful. She will stare and study something for long periods of time. She seems to have an inquisitive little mind. She will make a handful of expressions within seconds of each other…a trait she gets from her daddy. She has the biggest grin that is EXACTLY the same as Jonathan's big smile.
Loves: She is so into her teething giraffe, Sophie, right now. It comes with us everywhere…along with drool, lots of drool. Stuffed animals, and any toy really are a big hit. She "cuddles" with at least 2 when she sleeps. It's pretty much adorable. She prefers standing and rolling around to sitting. She thinks it's funny to maneuver her way into places where she shouldn't be. This girlie loves to wiggle! She's really into faces right now too. When we go up to talk to people, she'll immediately go for their face. Jonathan's beard is a favorite. One second she's sweetly caressing and the next I have a huge scratch mark. Silly girl. I've also started letting her watch Winne the Pooh and Baby Genius. I said I wasn't going to let her for a long time, but I can either let her watch a little tv or end up with a room covered in baby food when I'm feeding her. She's a ninja that girl. Needless to say, she loves it. Her favorite part is when Pooh gets stuck in the honey tree and the bees are laughing at him. She laughs too. Ha!
Doesn't love: Green beans. Naps. Staying out late. Teething. One little tooth is cutting through on the bottom right. Poor baby.
Development/ Things I want to remember: She's mastered rolling as her preferred method of getting around. I don't even know how she does it. It's kind of a wiggle/ flop/ back arch/ roll thing. Her legs are so strong. I think she might walk before she crawls. We often just "walk" her around the house because she likes it so much. Her little legs know exactly what do to and can go pretty fast. It's adorable. She really likes to look at herself in the mirror, be thrown in the air and get tickled. She'll giggle when we sing to her. For some reason, she loves the bridge of "Forever" by Kari Jobe and Joyful, Joyful We Adore Thee…(and shhh…don't tell, but she really thinks All About that Bass" is hilarious. Shhh. I mean, she is bringing booty back right now. Her tush is the cutest.) Her hair has gotten much longer this past month too. We're still not sure if it will go blonde or brown, but it does curl up in the front. I'm claiming Jonathan's curls. I just know it will happen. Haha! Oh and sometimes when she's cranky, I let her bang out her feelings on her little piano. That girl will go at it when a vengeance. I'm glad I'm not those poor keys! Eek! She is mostly sitting up. She definitely can, she just likes to totter off and play on her tummy. She's not into being still for long.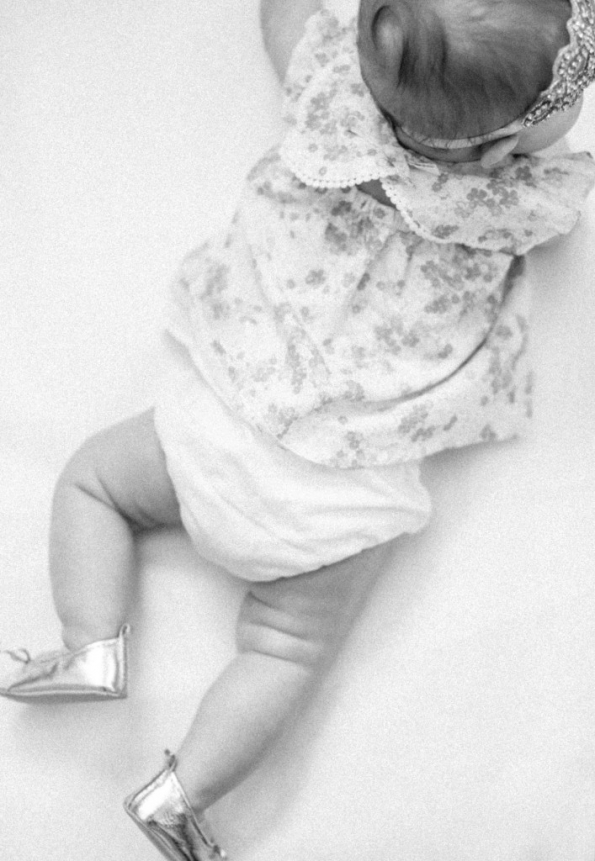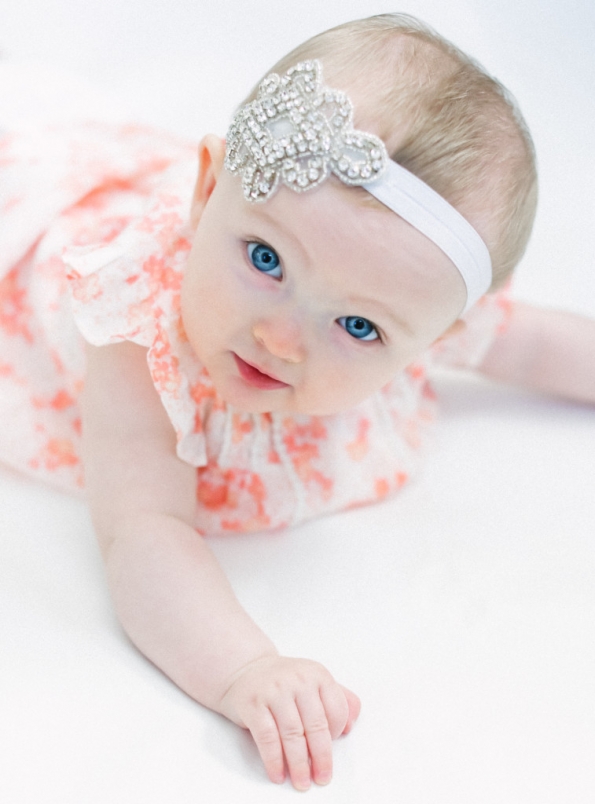 We sure adore this little munchkin! I barely even remember life without her anymore.