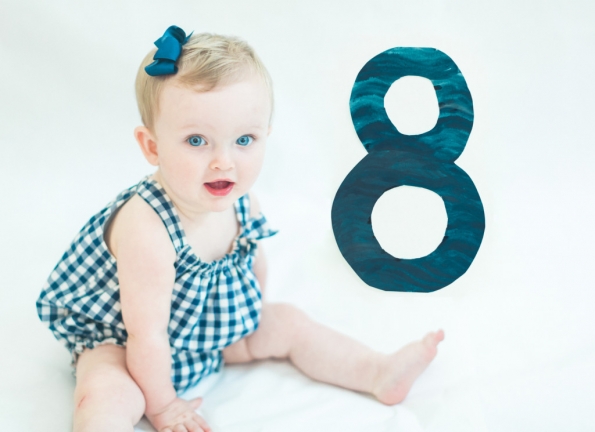 This stage is my favorite. Elle is so fun these days. We have a new adventure every day. I'm really not sure how I thought any of the other stages were fun, because this is the best. She is learning so much. She seems to understand when we tell her "no" at least for a minute…then she forgets! She walks everywhere (with help) is full of laughs and smiles and is our little daredevil explorer. It's hard to remember life before her. Sure we have plenty of hard days, but goodness she sure is fun! We even have fun changing diapers. I'm so grateful to be her mama. I also think I'm not biased when I say she's the most gorgeous baby in the world! My girl, I love her to bits!
Development/ Things I want to remember: How can she be so big? (Cue tears!) She can pull herself up, so we lowered the crib…sad day. We have to keep an eye on her constantly because girlie likes to move! She's everywhere in her walker or wiggling all over the floor and reaching things you didn't know were in her grasp. The only thing that keeps her still is Winne the Pooh. She's also a cuddle-bug. We think physical touch might one of her big love languages. She likes to "pet" our faces, hold our hands, cuddle up close, get her back scratched, and the list goes on. She's also said "hi" and "hey" this month. It's so cute! She still hasn't started crawling more than a scoot or two…I can't say I really mind! Her 3rd tooth appeared in the last week! It's 2 over from the middle on the right! Haha! I didn't even know that could happen. She's a rebel that Elle girl!
Weight: I have no idea, but she doesn't feel much heavier than last month. We have her 9 month check up next, so we will know then.
Clothing: We are practically living in rompers these days. They are the cutest! She wears anything from 0-3 dresses (as tops) to 9 month things. Actually, in some of these images she's wearing a little sailor outfit that I wore when I was about her age. It's really the only thing she's worn of mine because the rest is an 80's ruffles explosion! (No offense mom!)
Sleep: Sleep is from 8pm-7pm most of the time…or at least she gets ready for bed around 7-8pm. We're pretty flexible. A lot of times we're not even home by 8pm! She's been teething some, so that has woken her up in the middle of the night some. She wakes up once every other night or two probably. Overall we can't complain.
Eating: Elle loves to eat! She's almost to all table food now. She'll easily eat spinach, tomatoes, cheese and turkey for a meal. Sweet potatoes are still a favorite…but just about everything is yummy to her. She gets upset when we don't give her our food! She can also drink out our glasses too. So big!
Personality/ Mood: We are thinking Elle might have a flair for the dramatic. She loves attention and is mostly happy, but missy knows how to throw a fit! Our poor nursery ladies! When she's not with me, sometimes she'll get so upset  she turns bright red and will spit up her food. She does great with me or her nanny, but not so great with people she doesn't know well. She also gets impatient when we don't feed her quickly enough, so we're tying to teach her to sign please. Overall, she is great with going with the flow, especially when traveling with me. She is the BEST travel baby. She is perfectly content in new places. She seems to love exploring and seeing new things. When we get home, she knows and her face lights up too! She seems to be quite expressive too. We go through a lot of faces.
Loves: Elle LOVES other kids. Bath time. Food in general. Her bottle. Being outside. Swinging. Grass. Books. Her new favorite toy is a cute stuffed bear her Pops brought from France. 😉
Doesn't love: Not being fed fast enough! Ha!